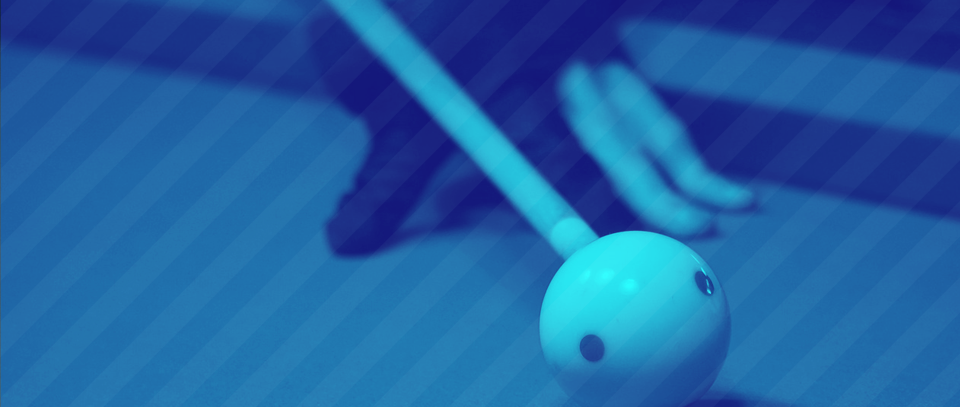 January 29, 2020
Oslo BK KT 4 2020
9-Ball
Entry deadline
Jan 29, 2020, 6:15 PM (local time)
Starts
Jan 29, 2020, 6:15 PM (local time)
Format
Double elimination (28

Participants

)
Handicap
With handicap
Rankings
Oslo BK ranking 2020 janfeb and Oslo BK ranking 2020
Organizer
Oslo BK
Contact
Stig Nesvik (stignesvik@hotmail.com, 46552338)
More info

9-ball med HCP etter tabell (ny) som viser rating og partier ved start av match. Vinners brekk, men spiller om førstebrekket, 3 ball regel og 9 spottes.

Rating for klubbturneringene i Oslo BK grundig gjennomgått, slik at alle har oppdaterte ratinger med justeringer for individuell utvikling. Gjennomsnittet er økt betraktelig - fra omtrent 55 i 2014 til 64 i 2020. Dette medfører en liten opphopning av spillere med god/meget god prestasjonsindeks - dvs som ligger mellom 55-90 i rating.
Schedule
Round 1

1

Jan Atle Kofoed

2

Ronny Sørlie

52

Kim Soo Garmark

106

Wed 18:02
Table 1
3

Morten Bakken

92

Joakim Haugen

156

Wed 18:02
Table 3
4

Erol Dane Mula

107

Erik Gårdelöf

140

Wed 18:02
Table 4
5

Pål Daud Fillipsveen

93

Mikael Øgaard

112

Wed 18:08
6

Mindaugas Butkus

92

Ola Mageralbert Johnsen

68

Wed 18:02
Table 5
7

Per Hagen

118

Umar Hayat Ali

114

Wed 18:02
Table 6
8

Levi Pavdeja

9

Øyvind Stordahl

10

Niklas Engstrom

61

Roger Mølmann

57

Wed 18:02
Table 7
11

Bjørn Bratteberg

88

Simen Jøndal

43

Wed 18:02
Table 8
12

Olav Skrudland

80

Kent Halldin

111

Wed 18:07
Table 11
13

Jan Thomassen

94

Ivan Blomqvist

88

R1

Wed 18:05
Table 10
14

Stig Nesvik

60

Philip Sanchez Gangfløt

121

Wed 18:02
Table 9
15

Vaios Evangelou

61

Henrik Olsson

114

Wed 18:02
Table 12
16

Christel Hanah Johnsen

Winners qualification

17

Jan Atle Kofoed

81

Ronny Sørlie

52

Wed 19:06
18

Joakim Haugen

156

Erik Gårdelöf

140

Wed 18:48
19

Mikael Øgaard

112

Ola Mageralbert Johnsen

68

Wed 18:56
Table 5
20

Per Hagen

118

Levi Pavdeja

75

Wed 18:48
21

Øyvind Stordahl

58

Roger Mølmann

57

Wed 18:36
Table 7
22

Bjørn Bratteberg

88

Olav Skrudland

80

Wed 19:04
23

Ivan Blomqvist

88

Philip Sanchez Gangfløt

121

Wed 18:48
Table 10
24

Henrik Olsson

114

Christel Hanah Johnsen

70

Wed 18:46
Table 12

Loser round 1

25

Kim Soo Garmark

26

Morten Bakken

92

Erol Dane Mula

107

Wed 18:49
Table 9
27

Pål Daud Fillipsveen

93

Mindaugas Butkus

92

28

Umar Hayat Ali

29

Niklas Engstrom

30

Simen Jøndal

43

Kent Halldin

111

31

Jan Thomassen

94

Stig Nesvik

60

Table 7
32

Vaios Evangelou

Losers qualification

33

Kim Soo Garmark

106

Christel Hanah Johnsen

70

Wed 19:33
Table 5
34

Morten Bakken

92

Philip Sanchez Gangfløt

121

Table 12
35

Pål Daud Fillipsveen

93

Bjørn Bratteberg

88

Wed 19:44
36

Umar Hayat Ali

114

Roger Mølmann

57

Wed 19:28
37

Niklas Engstrom

61

Per Hagen

118

Wed 19:28
38

Kent Halldin

111

Mikael Øgaard

112

Wed 20:20
39

Jan Thomassen

94

Erik Gårdelöf

140

Wed 20:20
Table 7
40

Vaios Evangelou

61

Ronny Sørlie

52

Wed 19:28

Last sixteen

41

Jan Atle Kofoed

81

Umar Hayat Ali

114

Wed 21:14
Table 7
42

Joakim Haugen

156

Christel Hanah Johnsen

70

Wed 21:12
Table 9
43

Ola Mageralbert Johnsen

68

Ronny Sørlie

52

Wed 21:11
Table 4
44

Levi Pavdeja

75

Niklas Engstrom

61

Wed 21:15
Table 5
45

Øyvind Stordahl

58

Morten Bakken

92

Wed 21:11
Table 8
46

Olav Skrudland

80

Pål Daud Fillipsveen

93

Wed 22:01
47

Ivan Blomqvist

88

Kent Halldin

111

Wed 21:53
48

Henrik Olsson

114

Erik Gårdelöf

140

Wed 21:11
Table 12

Quarter final

49

Umar Hayat Ali

114

Joakim Haugen

156

Wed 21:49
Table 7
50

Ronny Sørlie

52

Niklas Engstrom

61

Wed 22:33
51

Øyvind Stordahl

58

Olav Skrudland

80

Wed 22:34
52

Kent Halldin

111

Henrik Olsson

114

Wed 21:56
Table 12

Semi final

53

Joakim Haugen

156

Niklas Engstrom

61

Wed 23:15
Table 12
54

Olav Skrudland

80

Henrik Olsson

114

Wed 23:21
Table 6

Final

55

Joakim Haugen

156

Henrik Olsson

114

Wed 23:59
Table 12