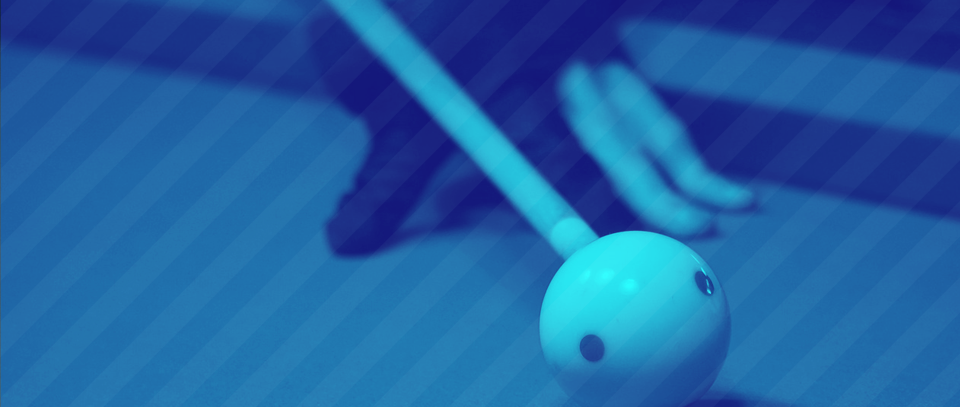 April 4, 2018
Oslo BK KT 13 2018
8-Ball
Entry deadline
Apr 4, 2018, 6:10 PM (local time)
Starts
Apr 4, 2018, 6:15 PM (local time)
Format
Double elimination (29

Participants

)
Handicap
With handicap
Rankings
Oslo BK ranking april 8x2/9x2 and Oslo BK ranking 2018
Organizer
Oslo BK
Contact
Stig Nesvik (stignesvik@hotmail.com, 46552338)
More info

8-ball med HC kort distanse. Brekkregler: spiller om første brekk, eller vinners brekk og fire kuler i vant. Dette er første turnering av fire: 2 x 8-ball + 2 x 9- ball. Premie til vinneren. Ellers vanlig 80 % ut i premier i hver turnering. 150,-/75,-. Alle er velkommen!
Schedule
Round 1

1

Jozef Kwit

2

Bjørn Bratteberg

70

Stig Nesvik

38

Wed 19:39
Table 2
3

Kent Hansen

52

Kent Halldin

102

Wed 19:01
Table 3
4

Thomas Aleksander Bjørnson Fjæran

122

Mindaugas Jomantas

74

Wed 18:43
Table 4
5

Øyvind Stenhaug

20

Kendall Onstad

56

Wed 19:41
Table 7
6

Umar Hayat Ali

89

Antonio Melendez Figueroa

54

Wed 18:42
Table 6
7

Sebastian Meling

68

Frank Hjeldnes

80

Wed 18:43
Table 7
8

Marius Farås

49

Anders Lie

76

Wed 19:41
Table 15
9

Robin Hagerup Ertesvåg

10

Henrik Olsson

100

Jan Atle Kofoed

88

Wed 18:45
Table 9
11

Pål Daud Fillipsveen

96

Tom-Henrik Sandvik

16

Wed 19:18
Table 10
12

Robin Nathan

84

Erik Gårdelöf

111

Wed 19:01
Table 11
13

Terje Kristoffersen

60

Bjørn Erik Øverland

46

Wed 19:27
Table 12
14

Per Hagen

105

Audun Bjerve

66

Wed 18:43
Table 5
15

Jim-Olav Fors

41

Lars Harby

94

Wed 18:43
Table 8
16

Ivan Tadic

Winner round 1

17

Jozef Kwit

48

Stig Nesvik

38

Wed 19:41
18

Kent Hansen

52

Thomas Aleksander Bjørnson Fjæran

122

Wed 19:34
19

Øyvind Stenhaug

20

Umar Hayat Ali

89

Wed 19:47
20

Sebastian Meling

68

Anders Lie

76

Wed 19:47
21

Robin Hagerup Ertesvåg

115

Jan Atle Kofoed

88

Wed 19:43
22

Pål Daud Fillipsveen

96

Erik Gårdelöf

111

Wed 19:47
23

Bjørn Erik Øverland

46

Audun Bjerve

66

Wed 19:35
24

Jim-Olav Fors

41

Ivan Tadic

26

Wed 19:47

Loser round 1

25

Bjørn Bratteberg

26

Kent Halldin

102

Mindaugas Jomantas

74

Wed 19:47
27

Kendall Onstad

56

Antonio Melendez Figueroa

54

Wed 19:49
28

Frank Hjeldnes

80

Marius Farås

49

Wed 19:48
29

Henrik Olsson

30

Tom-Henrik Sandvik

16

Robin Nathan

84

Wed 19:49
31

Terje Kristoffersen

60

Per Hagen

105

Wed 19:49
32

Lars Harby

Loser round 2

33

Bjørn Bratteberg

70

Jim-Olav Fors

41

Wed 21:02
34

Mindaugas Jomantas

74

Audun Bjerve

66

Wed 20:30
Table 4
35

Antonio Melendez Figueroa

54

Pål Daud Fillipsveen

96

Wed 21:24
36

Marius Farås

49

Jan Atle Kofoed

88

Wed 20:35
37

Henrik Olsson

100

Anders Lie

76

Wed 20:16
38

Robin Nathan

84

Øyvind Stenhaug

20

Wed 21:01
39

Per Hagen

105

Thomas Aleksander Bjørnson Fjæran

122

Wed 20:36
40

Lars Harby

94

Jozef Kwit

48

Wed 21:01

Winners qualification

41

Stig Nesvik

38

Kent Hansen

52

Wed 21:01
42

Umar Hayat Ali

89

Sebastian Meling

68

Wed 21:00
43

Robin Hagerup Ertesvåg

115

Erik Gårdelöf

111

Wed 20:59
44

Bjørn Erik Øverland

46

Ivan Tadic

26

Wed 21:00

Loser round 3

45

Jim-Olav Fors

41

Mindaugas Jomantas

74

Wed 21:57
46

Antonio Melendez Figueroa

54

Marius Farås

49

Wed 22:21
47

Henrik Olsson

100

Robin Nathan

84

Wed 21:57
48

Per Hagen

105

Jozef Kwit

48

Wed 21:57
Table 4

Losers qualification

49

Mindaugas Jomantas

74

Umar Hayat Ali

89

Wed 22:28
50

Antonio Melendez Figueroa

54

Stig Nesvik

38

Wed 23:15
51

Robin Nathan

84

Bjørn Erik Øverland

46

Wed 22:29
52

Jozef Kwit

48

Erik Gårdelöf

111

Wed 22:29

Quarter final

53

Kent Hansen

52

Antonio Melendez Figueroa

54

Wed 23:59
54

Sebastian Meling

68

Erik Gårdelöf

111

55

Robin Hagerup Ertesvåg

115

Robin Nathan

84

Wed 23:50
56

Ivan Tadic

26

Mindaugas Jomantas

74

Wed 23:50

Semi final

57

Antonio Melendez Figueroa

54

Erik Gårdelöf

111

Thu 00:40
58

Robin Hagerup Ertesvåg

115

Mindaugas Jomantas

74

Thu 00:40

Final

59

Antonio Melendez Figueroa

54

Mindaugas Jomantas

74

Thu 01:28