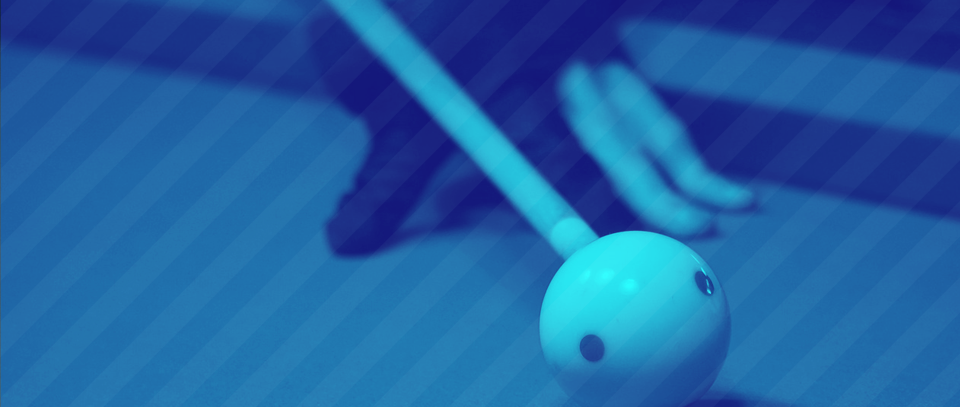 May 15, 2019
Oslo Biljardklubb KT 18 2019
10-Ball
Entry deadline
May 15, 2019, 7:00 PM (local time)
Starts
May 15, 2019, 7:00 PM (local time)
Format
Double elimination (24

Participants

)
Handicap
With handicap
Rankings
Oslo BK ranking mai 2019 and Oslo BK ranking 2019
Organizer
Oslo BK
Contact
Stig Nesvik (stignesvik@hotmail.com, 46552338)
More info

10-ball (evt. annen disiplin) med HC etter kort distanse (tabell 10) og rating/score. Vanlige brekkregler og vinners brekk. Singelcup fra 16 siste, såfremt det ikke er 32 eller 16 og/eller lavere antall deltakere enn 16. Vi oppfordrer deltakerne å komme presist til turneringsstart som er 1800. Trekning gjøres rett i forkant. Grunnet mange deltakere, vil vi be om at alle gjør sitt for å ikke bruke unødig lang tid før/under og mellom matchene. Merk: spillere med score/rating under 50 som møter hverandre med 0-6 i differanse spiller 0-0 distanse 3. Elitespillere/spillere med rating over 120 som møter hverandre spiller 0-0 først til 6.
Schedule
Round 1

1

Emil Andreassen

54

Per Hagen

110

Wed 18:08
Table 6
2

Levi Pavdeja

82

Frank Hjeldnes

82

Wed 18:08
Table 7
3

Joakim Haugen

129

Umar Hayat Ali

109

Wed 18:08
Table 9
4

Sundar K

28

Antonio Melendez Figueroa

71

Wed 18:08
Table 10
5

Stig Nesvik

52

Odd Arne Sørensen

48

Wed 18:08
Table 5
6

Ole Kristian Rudshavn

120

Bjørn Erik Øverland

70

Wed 18:08
Table 12
7

Mindaugas Jomantas

78

Rune Fevang

32

Wed 18:08
Table 4
8

Simen Jøndal

38

Nejat Baranji

60

Wed 18:08
Table 8

Winners qualification

9

Erik Gårdelöf

132

Emil Andreassen

54

Wed 19:01
Table 6
10

Frank Hjeldnes

82

Jan Atle Kofoed

80

Wed 18:49
11

Erol Dane Mula

90

Joakim Haugen

129

Wed 18:29
Table 9
12

Sundar K

28

Tore Mo

43

Wed 19:10
Table 2
13

Vaios Evangelou

69

Odd Arne Sørensen

48

Wed 19:06
Table 5
14

Ole Kristian Rudshavn

120

Henrik Olsson

113

Wed 18:47
Table 12
15

Øyvind Stordahl

55

Rune Fevang

32

Wed 19:10
Table 2
16

Nejat Baranji

60

Jozef Kwit

60

Wed 19:07
Table 8

Losers qualification

17

Per Hagen

110

Jozef Kwit

60

Wed 20:12
Table 12
18

Levi Pavdeja

82

Rune Fevang

32

Wed 20:00
Table 4
19

Umar Hayat Ali

109

Henrik Olsson

113

Wed 19:43
20

Antonio Melendez Figueroa

71

Vaios Evangelou

69

Wed 20:15
Table 6
21

Stig Nesvik

52

Tore Mo

43

Wed 19:36
Table 9
22

Bjørn Erik Øverland

70

Erol Dane Mula

90

Wed 19:36
23

Mindaugas Jomantas

78

Frank Hjeldnes

82

Wed 19:36
24

Simen Jøndal

38

Emil Andreassen

54

Wed 19:36
Table 6

Last sixteen

25

Erik Gårdelöf

132

Rune Fevang

32

Wed 21:09
Table 6
26

Jan Atle Kofoed

80

Jozef Kwit

60

Wed 21:09
Table 4
27

Joakim Haugen

129

Frank Hjeldnes

82

Wed 21:08
Table 9
28

Sundar K

28

Erol Dane Mula

90

Wed 21:09
Table 7
29

Odd Arne Sørensen

48

Henrik Olsson

113

Wed 21:09
Table 5
30

Ole Kristian Rudshavn

120

Stig Nesvik

52

Wed 21:08
Table 12
31

Øyvind Stordahl

55

Emil Andreassen

54

Wed 21:09
Table 1
32

Nejat Baranji

60

Antonio Melendez Figueroa

71

Wed 21:09
Table 10

Quarter final

33

Erik Gårdelöf

132

Jozef Kwit

60

Wed 22:04
Table 12
34

Joakim Haugen

129

Erol Dane Mula

90

Wed 22:08
Table 6
35

Henrik Olsson

113

Ole Kristian Rudshavn

120

Wed 22:03
Table 9
36

Øyvind Stordahl

55

Nejat Baranji

60

Wed 22:45

Semi final

37

Erik Gårdelöf

132

Erol Dane Mula

90

Wed 22:55
Table 6
38

Ole Kristian Rudshavn

120

Nejat Baranji

60

Wed 23:08
Table 9

Final

39

Erik Gårdelöf

132

Ole Kristian Rudshavn

120

Wed 23:53
Table 12