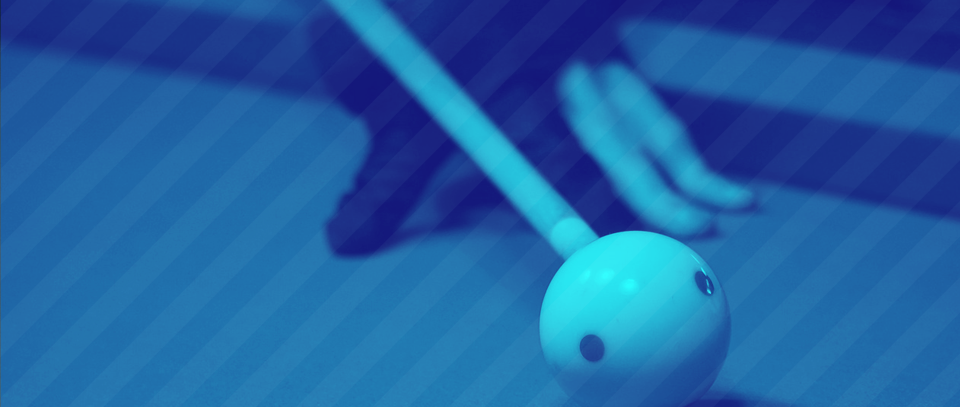 April 10, 2019
Oslo Biljardklubb KT 14 2019
9-Ball
Entry deadline
Apr 10, 2019, 5:55 PM (local time)
Starts
Apr 10, 2019, 6:00 PM (local time)
Format
Double elimination (20

Participants

)
Race to
5
Handicap
With handicap
Rankings
Oslo BK ranking april 2019 and Oslo BK ranking 2019
Organizer
Oslo BK
Contact
Stig Nesvik (stignesvik@hotmail.com, 46552338)
More info

9-ball med HC fra -3 til 3 distanse 5. Utg.pkt. for HC er score/ rating. Eksempel: normalfordelingen, gjennomsnittsscore, median korrigerer hvor store scoregruppene blir. Ikke store endringer, litt enklere å forholde seg til. Prøveordning. Ellers ordinære brekkregler og 3 ball regel. Husk å ta med kontanter til turneringsavgiften.
Schedule
1

Simen Jøndal

2

Nejat Baranji

1

Bjørn Bratteberg

0

Wed 18:02
Table 3
3

Damianos Giallourakis

4

Joakim Haugen

5

Roger Rasmussen

6

Ivo Aarts

7

Vaios Evangelou

1

Mindaugas Jomantas

0

Wed 18:02
Table 6
8

Hasan Emre Vural

9

Stig Nesvik

10

Erik Gårdelöf

-2

Antonio Melendez Figueroa

0

Wed 18:02
Table 5
11

Per Hagen

12

Emil Andreassen

13

Jozef Kwit

14

Umar Hayat Ali

15

Frank Hjeldnes

0

Tore Mo

2

Wed 18:02
Table 4
16

Niklas Engstrom

17

Simen Jøndal

2

Nejat Baranji

1

Wed 19:11
Table 3
18

Damianos Giallourakis

-3

R-2

Joakim Haugen

-2

R-2

Wed 18:02
Table 12
19

Roger Rasmussen

-2

Ivo Aarts

-3

Wed 18:02
Table 9
20

Mindaugas Jomantas

0

Hasan Emre Vural

-2

Wed 18:55
Table 6
21

Stig Nesvik

2

Erik Gårdelöf

-2

Wed 19:04
Table 9
22

Per Hagen

-2

Emil Andreassen

2

Wed 18:02
Table 7
23

Jozef Kwit

2

Umar Hayat Ali

-1

Wed 18:02
Table 8
24

Tore Mo

2

Niklas Engstrom

0

Wed 18:46
Table 4
25

Bjørn Bratteberg

26
27
28

Vaios Evangelou

29

Antonio Melendez Figueroa

30
31
32

Frank Hjeldnes

33

Bjørn Bratteberg

0

Niklas Engstrom

0

Wed 19:16
Table 4
34

Jozef Kwit

35

Emil Andreassen

36

Vaios Evangelou

1

Stig Nesvik

2

Wed 19:46
Table 5
37

Antonio Melendez Figueroa

0

Mindaugas Jomantas

0

Wed 19:52
Table 10
38

Ivo Aarts

39

Damianos Giallourakis

40

Frank Hjeldnes

0

Simen Jøndal

2

Wed 19:47
Table 9

Winners qualification

Race to 5

41

Nejat Baranji

1

Joakim Haugen

-2

Wed 19:49
Table 7
42

Roger Rasmussen

-2

Hasan Emre Vural

-2

Wed 19:45
Table 6
43

Erik Gårdelöf

-2

Per Hagen

-2

Wed 19:45
Table 12
44

Umar Hayat Ali

-1

Tore Mo

2

Wed 19:19
Table 8
45

Bjørn Bratteberg

0

Jozef Kwit

2

Wed 19:51
Table 8
46

Emil Andreassen

2

Stig Nesvik

2

Wed 20:20
Table 4
47

Mindaugas Jomantas

0

Ivo Aarts

-3

Wed 21:00
Table 7
48

Damianos Giallourakis

-3

Frank Hjeldnes

0

Wed 20:18
Table 9

Losers qualification

Race to 5

49

Jozef Kwit

2

Hasan Emre Vural

-2

Wed 20:21
Table 8
50

Stig Nesvik

2

Nejat Baranji

1

Wed 20:48
Table 6
51

Mindaugas Jomantas

0

Umar Hayat Ali

-1

Wed 21:42
Table 6
52

Damianos Giallourakis

-3

R5

Per Hagen

-2

R2

Wed 20:52
Table 12
53

Joakim Haugen

-2

Umar Hayat Ali

-1

Wed 22:26
Table 6
54

Roger Rasmussen

-2

Per Hagen

-2

Wed 22:27
Table 9
55

Erik Gårdelöf

-2

Hasan Emre Vural

-2

Wed 22:27
Table 12
56

Tore Mo

2

Nejat Baranji

1

Wed 22:27
Table 7
57

Joakim Haugen

-2

Roger Rasmussen

-2

Wed 23:20
Table 6
58

Erik Gårdelöf

-2

Tore Mo

2

Wed 23:33
Table 12
59

Joakim Haugen

-2

Erik Gårdelöf

-2

Thu 00:22
Table 12