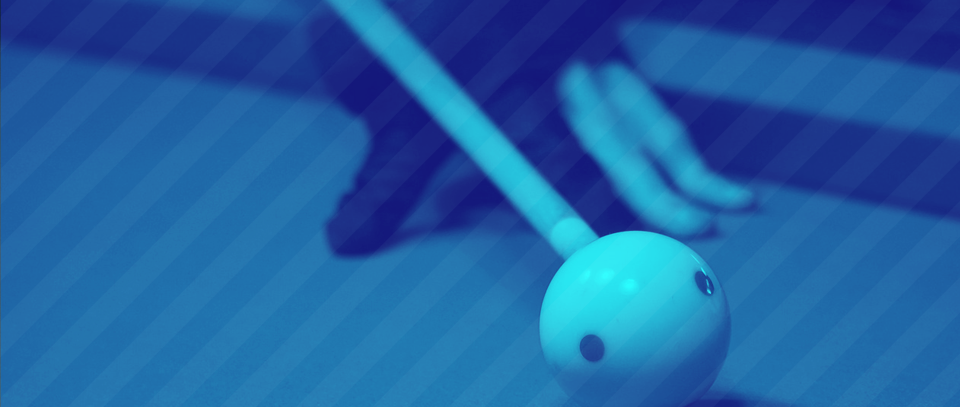 August 12, 2020
Oslo BK Klubbturnering PRO RT 1 2020 8-ball
8-Ball
Entry deadline
Aug 12, 2020, 5:58 PM (local time)
Starts
Aug 12, 2020, 6:00 PM (local time)
Format
Double elimination (21

Participants

)
Race to
4
Handicap
With handicap
Organizer
Oslo BK
Contact
Stig Nesvik (stignesvik@hotmail.com, 46552338)
More info

8-ball med HCP 0-2, distanse 4 annethvert brekk. Lengre distanse såfremt antall deltakere tillater det. Påmelding senest 1750 på cuescore eller ved oppmøte. For de som betaler og melder seg på når de kommer, må si fra at de melder seg på, helst til turneringsansvarlig. Ingen vil kunne melde seg på etter 1750. Turneringen starter 1800 presis, de som kommer etter 18 må ha egen avtale om dette. 200,- og 100,- for jun. og skoleelver. Alle er velkommen!
Schedule
1

Vaios Evangelou

1

Jan Atle Kofoed

0

Wed 18:02
Table 2
2

Andreas Eldegard Wahr-Hansen

3

Rune Fevang

2

Kim Soo Garmark

0

Wed 18:02
Table 7
4

Morten Bakken

0

Ole Kristian Rudshavn

-1

Wed 18:04
Table 3
5

Kent Hansen

1

Mindaugas Jomantas

1

Wed 18:02
Table 4
6

Simen Jøndal

7

Erol Dane Mula

8

Umar Hayat Ali

0

Jan Thomassen

0

Wed 18:04
Table 5
9

Per Hagen

0

Jan Atle Kofoed

0

Wed 19:18
Table 11
10

Andreas Eldegard Wahr-Hansen

2

Antonio Melendez Figueroa

1

Wed 18:02
Table 6
11

Daniel Lorentzen-Styr

2

Kim Soo Garmark

0

Wed 18:03
Table 7
12

Ole Kristian Rudshavn

-1

Roger Mølmann

2

Wed 18:58
Table 5
13

Bjørn Bratteberg

1

Mindaugas Jomantas

1

Wed 18:45
Table 6
14

Simen Jøndal

2

Stig Nesvik

2

Wed 18:08
Table 12
15

Jan Petter Svendsen

2

Erol Dane Mula

0

Wed 18:01
Table 10
16

Umar Hayat Ali

0

Terje Kristoffersen

2

Wed 18:44
Table 8
17

Vaios Evangelou

1

Terje Kristoffersen

2

Wed 19:22
Table 8
18

Jan Petter Svendsen

19

Rune Fevang

2

Simen Jøndal

2

Table 12
20

Morten Bakken

0

Mindaugas Jomantas

1

Wed 19:36
Table 6
21

Kent Hansen

1

Roger Mølmann

2

Wed 19:44
Table 4
22

Kim Soo Garmark

23

Antonio Melendez Figueroa

24

Jan Thomassen

0

Jan Atle Kofoed

0

Wed 20:01
Table 10
25

Terje Kristoffersen

2

Jan Petter Svendsen

2

Wed 20:04
Table 8
26

Simen Jøndal

2

Morten Bakken

0

Wed 20:26
Table 12
27

Kent Hansen

1

Kim Soo Garmark

0

Wed 20:24
Table 4
28

Antonio Melendez Figueroa

1

Jan Thomassen

0

Wed 20:57
Table 10

Winners qualification

Race to 4

29

Per Hagen

0

Andreas Eldegard Wahr-Hansen

2

Wed 19:58
Table 11
30

Daniel Lorentzen-Styr

2

Ole Kristian Rudshavn

-1

R2

Wed 19:44
Table 5
31

Bjørn Bratteberg

1

Stig Nesvik

2

Wed 19:33
Table 12
32

Erol Dane Mula

0

Umar Hayat Ali

0

Wed 19:25
Table 7

Losers qualification

Race to 4

33

Jan Petter Svendsen

2

Daniel Lorentzen-Styr

2

Wed 20:48
Table 7
34

Morten Bakken

0

Andreas Eldegard Wahr-Hansen

2

Wed 21:08
Table 5
35

Kim Soo Garmark

0

Erol Dane Mula

0

Wed 20:58
Table 6
36

Antonio Melendez Figueroa

1

Bjørn Bratteberg

1

Wed 22:04
Table 12
37

Per Hagen

0

Antonio Melendez Figueroa

1

Wed 23:05
Table 6
38

Ole Kristian Rudshavn

-1

Morten Bakken

0

Wed 23:05
Table 12
39

Stig Nesvik

2

Jan Petter Svendsen

2

Wed 23:05
Table 7
40

Umar Hayat Ali

0

Kim Soo Garmark

0

Wed 23:06
Table 8
41

Per Hagen

0

Ole Kristian Rudshavn

-1

R2

Thu 00:12
Table 12
42

Jan Petter Svendsen

2

Umar Hayat Ali

0

Wed 23:42
Table 8
43

Per Hagen

0

Umar Hayat Ali

0

Thu 00:50
Table 12