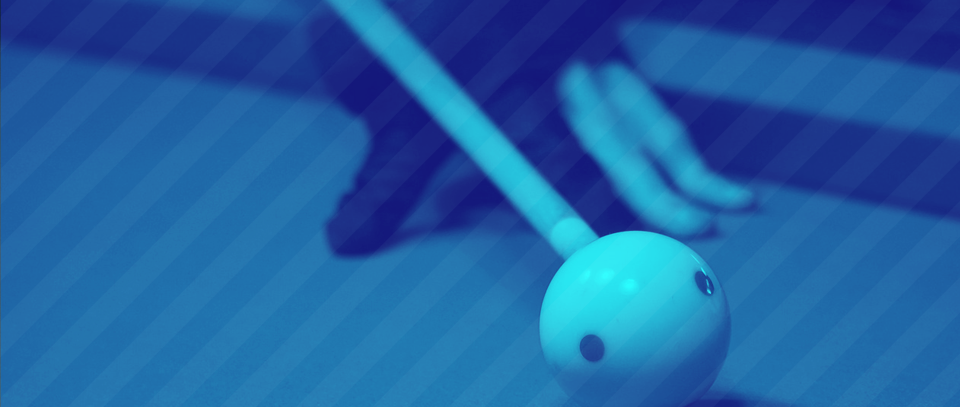 October 2, 2019
Oslo BK Klubbturnering 30 2019
Multiball
Entry deadline
Oct 2, 2019, 5:57 PM (local time)
Starts
Oct 2, 2019, 6:00 PM (local time)
Format
Double elimination (30

Participants

)
Race to
5
Handicap
With handicap
Rankings
Oslo BK ranking 2019
Organizer
Oslo BK
Contact
Stig Nesvik (stignesvik@hotmail.com, 46552338)
More info

Multiball: 9-ball frem til kvartfinalene. Kvartfinalene spilles 10-ball. Semifinaler 9-ball og finale 10-ball. Brekkregler: 9-ball med 3 ball regel og 10-ball med brekkboks og fire kuler i vant. Vinners brekk. Spiller om åpningsbrekket.
Schedule
1

Vaios Evangelou

2

Ivan Tadic

51

Henrik Olsson

111

Wed 18:05
Table 1
3

Rune Fevang

28

Levi Pavdeja

82

Wed 18:05
Table 2
4

Niklas Engstrom

72

Egil Arne Sørensen

100

Wed 18:06
Table 3
5

Pål Helgesen

90

Simen Jøndal

44

Wed 18:06
Table 4
6

Bjørn Bratteberg

86

Marius Fredriksen

60

Wed 18:06
Table 5
7

Stig Nesvik

56

Mindaugas Jomantas

90

Wed 18:06
Table 6
8

Nate Komljenovic

80

Joakim Haugen

139

Wed 18:07
Table 7
9

Erik Gårdelöf

142

Christian Johannessen

120

Wed 18:43
Table 14
10

Per Hagen

108

Rune Braathen

85

Wed 18:07
Table 8
11

Kent Hansen

80

Morten Bakken

81

Wed 18:08
Table 9
12

Christian Oseth

75

Jozef Kwit

75

Wed 18:07
Table 10
13

Umar Hayat Ali

108

Tor Einar Johansen

34

Wed 18:07
Table 11
14

Jan Atle Kofoed

73

Roger Rasmussen

139

Wed 18:08
Table 12
15

Jim-Olav Fors

71

Erol Dane Mula

95

Wed 18:08
Table 13
16

Jan Thomassen

Winners qualification

Race to 5

17

Vaios Evangelou

64

Henrik Olsson

111

Wed 19:26
18

Rune Fevang

28

Niklas Engstrom

72

Wed 19:26
19

Simen Jøndal

44

Marius Fredriksen

60

Wed 19:26
20

Mindaugas Jomantas

90

Nate Komljenovic

80

Wed 19:26
21

Erik Gårdelöf

142

Per Hagen

108

Wed 19:26
22

Morten Bakken

81

Christian Oseth

75

Wed 20:42
23

Umar Hayat Ali

108

Jan Atle Kofoed

73

Wed 19:21
24

Erol Dane Mula

95

Jan Thomassen

94

Wed 19:37
25

Ivan Tadic

26

Levi Pavdeja

82

Egil Arne Sørensen

100

Wed 19:27
Table 1
27

Pål Helgesen

90

Bjørn Bratteberg

86

Wed 19:27
28

Stig Nesvik

56

Joakim Haugen

139

Wed 19:27
29

Christian Johannessen

120

Rune Braathen

85

30

Kent Hansen

80

Jozef Kwit

75

Wed 20:24
Table 7
31

Tor Einar Johansen

34

Roger Rasmussen

139

Wed 19:34
32

Jim-Olav Fors

Losers qualification

Race to 5

33

Ivan Tadic

51

Erol Dane Mula

95

Wed 20:43
Table 12
34

Levi Pavdeja

82

Umar Hayat Ali

108

Wed 20:33
Table 1
35

Pål Helgesen

90

Morten Bakken

81

Wed 21:28
36

Joakim Haugen

139

Erik Gårdelöf

142

Wed 21:08
37

Christian Johannessen

120

Nate Komljenovic

80

Wed 20:59
38

Jozef Kwit

75

Simen Jøndal

44

Wed 21:10
39

Roger Rasmussen

139

Rune Fevang

28

Wed 20:48
40

Jim-Olav Fors

71

Vaios Evangelou

64

Wed 21:05
41

Henrik Olsson

111

Roger Rasmussen

139

Wed 22:06
42

Niklas Engstrom

72

Morten Bakken

81

Wed 21:34
Table 10
43

Marius Fredriksen

60

Erik Gårdelöf

142

Wed 22:05
44

Mindaugas Jomantas

90

Umar Hayat Ali

108

Wed 22:03
45

Per Hagen

108

Jim-Olav Fors

71

Wed 21:34
Table 8
46

Christian Oseth

75

Ivan Tadic

51

Wed 21:36
Table 9
47

Jan Atle Kofoed

73

Nate Komljenovic

80

Wed 22:20
48

Jan Thomassen

94

Jozef Kwit

75

Wed 21:29
Table 7
49

Roger Rasmussen

139

Morten Bakken

81

Wed 22:56
Table 12
50

Erik Gårdelöf

142

Mindaugas Jomantas

90

Wed 22:55
51

Jim-Olav Fors

71

Ivan Tadic

51

Wed 22:43
52

Jan Atle Kofoed

73

Jan Thomassen

94

Wed 23:11
53

Roger Rasmussen

139

Mindaugas Jomantas

90

Wed 23:17
54

Jim-Olav Fors

71

Jan Thomassen

94

Wed 23:15
Table 12
55

Roger Rasmussen

139

Jim-Olav Fors

71

Thu 00:02
Table 12