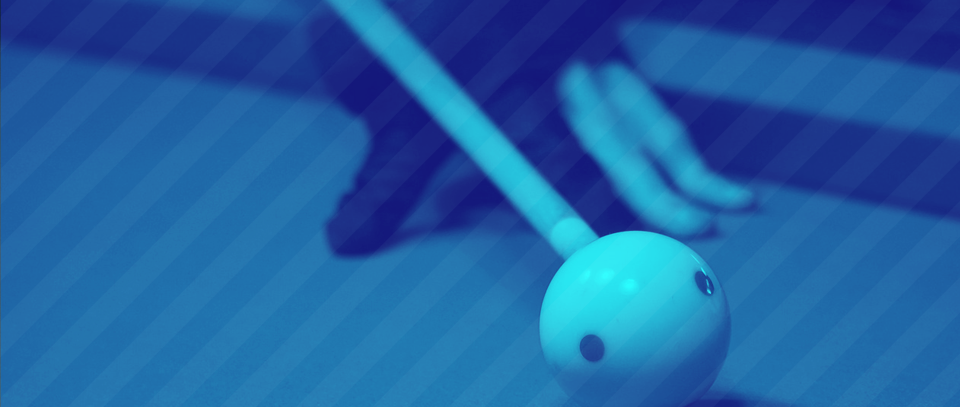 January 16, 2019
OSLO Biljardklubb KT 2 2019
9-Ball
Entry deadline
Jan 16, 2019, 5:55 PM (local time)
Starts
Jan 16, 2019, 6:00 PM (local time)
Format
Double elimination (20

Participants

)
Handicap
With handicap
Rankings
Oslo BK KTJan2019 and Oslo BK ranking 2019
Organizer
Oslo BK
Contact
Jesper Gustafsson (JesperG91@gmail.com, 93277971) and Stig Nesvik (stignesvik@hotmail.com, 46552338)
More info

9-ball med HC etter rating og kort distanse. Brekkregler: Spill om førstebrekket*, ellers vinners brekk og 3-ball regel, 9 spottes.

* Det vil bli spilt om førstebrekket både i 9-ball og eventuelle andre spill. Uten spill om førstebrekket kan medføre at en av spillerne fratas støtmulighet i matchen.
Schedule
Round 1

1

Bjørn Bratteberg

2

Jack Nordby

65

Umar Hayat Ali

97

Wed 18:08
Table 1
3

Jan Atle Kofoed

4

Roger Rasmussen

5

Ivan Tadic

6

Tor Bugten

7

Stig Nesvik

50*

Askild Sjøeng

105

Wed 18:08
Table 2
8

Erol Dane Mula

9

Simen Jøndal

10

Emil Andreassen

48

Sundaramanikandan K

19

Wed 18:08
Table 3
11

Erik Gårdelöf

12

Stefan Szot

13

Knut Holm

14

Per Hagen

15

Morten Falk

52

Tore Mo

36*

Wed 18:08
16

Jozef Kwit

Winner round 1

17

Bjørn Bratteberg

82

Jack Nordby

65

Wed 18:42
Table 1
18

Jan Atle Kofoed

92

Roger Rasmussen

120

Wed 18:08
Table 5
19

Ivan Tadic

45*

Tor Bugten

42

Wed 18:07
Table 6
20

Askild Sjøeng

105

Erol Dane Mula

78

Wed 18:53
Table 4
21

Simen Jøndal

42*

Emil Andreassen

48

Wed 18:54
Table 6
22

Erik Gårdelöf

120

Stefan Szot

90

Wed 18:08
Table 7
23

Knut Holm

45

Per Hagen

120

Wed 18:08
Table 9
24

Morten Falk

52

Jozef Kwit

60

Wed 18:40
Table 7

Loser round 1

25

Umar Hayat Ali

26
27
28

Stig Nesvik

29

Sundaramanikandan K

30
31
32

Tore Mo

Loser round 2

33

Umar Hayat Ali

97

Morten Falk

52

Wed 19:18
Table 7
34

Knut Holm

35

Erik Gårdelöf

36

Stig Nesvik

50*

Simen Jøndal

42*

Wed 19:36
Table 6
37

Sundaramanikandan K

19

Erol Dane Mula

78

Wed 19:32
Table 4
38

Ivan Tadic

39

Jan Atle Kofoed

40

Tore Mo

36*

Jack Nordby

65

Wed 19:14
Table 9

Winners qualification

41

Bjørn Bratteberg

82

Roger Rasmussen

120

Wed 19:27
Table 8
42

Tor Bugten

42

Askild Sjøeng

105

Wed 19:31
43

Emil Andreassen

48

Stefan Szot

90

Wed 19:36
Table 11
44

Per Hagen

120

Jozef Kwit

60

Wed 19:31
Table 7

Loser round 3

45

Morten Falk

52

Knut Holm

45

Wed 20:11
46

Erik Gårdelöf

120

Stig Nesvik

50*

R1

Wed 20:15
Table 6
47

Sundaramanikandan K

19

Ivan Tadic

45*

Wed 20:00
Table 4
48

Jan Atle Kofoed

92

Tore Mo

36*

Wed 20:01

Losers qualification

49

Morten Falk

52

Askild Sjøeng

105

Wed 20:15
50

Erik Gårdelöf

120

Roger Rasmussen

120

Wed 20:59
Table 6
51

Ivan Tadic

45*

Jozef Kwit

60

Wed 20:49
Table 7
52

Tore Mo

36*

Emil Andreassen

48

Wed 20:04
Table 9

Quarter final

53

Bjørn Bratteberg

82

Jozef Kwit

60

Wed 21:37
Table 6
54

Tor Bugten

42

Erik Gårdelöf

120

Wed 21:37
Table 7
55

Stefan Szot

90

Morten Falk

52

Wed 21:37
Table 9
56

Per Hagen

120

Tore Mo

36*

Wed 21:37
Table 5

Semi final

57

Bjørn Bratteberg

82

Tor Bugten

42

Wed 22:17
Table 6
58

Stefan Szot

90

Per Hagen

120

Wed 22:12
Table 7

Final

59

Tor Bugten

42

Stefan Szot

90

Wed 22:33
Table 7