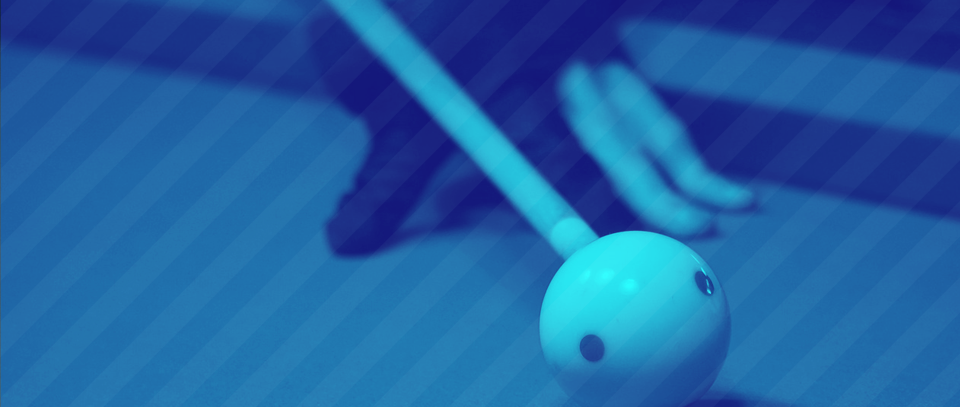 May 26, 2019
Pool Masters Haaglanden 2018-2019
Multiball
Starts
May 26, 2019, 1:00 PM (local time)
Format
Double elimination (16

Participants

)
Race to
3
Handicap
No handicap
Organizer
Koninklijke Nederlandse Biljartbond and Pool Regio 3
Contact
Govert-Jan Vos (Govert-jan.vos@denhaag.nl, +31 06-52672069)
More info

Dit is het Master toernooi van Pool Haaglanden. Hier strijden de 16 beste spelers van het seizoen 2018-2019 voor de titel Master Pool Haaglanden. Tijdens het toernooi zal multiball worden gespeeld, in een D.K.O. format tot de laatste 4. Er wordt begonnen met 8-ball, daarna 9-ball en bij een gelijke stand nog ene beslissende 10-ball.
Schedule
1

Milen Pan

Howard Holwijn

Sun 13:36
Table 7
2

Frans van Tatenhove

Roy Al Ayoubi

Sun 13:36
Table 8
3

Bob Worku

Ben Zaza

Sun 13:36
Table 9
4

Tom Innemee

Maaike Dent

Sun 13:56
Table 10
5

Charles Palomar

Anand Sjambar

Sun 13:36
Table 11
6

Sebastiaan Bost

John Koot

Sun 13:36
Table 12
7

Danny van Soest

Karin Roijen

Sun 13:36
Table 14
8

Tara Verharen

William (Billy) Kelly

Sun 13:36
Table 15

Winner round 1

Race to 3

Best of 3 sets

9

Milen Pan

Frans van Tatenhove

Sun 15:12
Table 9
10

Bob Worku

Maaike Dent

Sun 14:44
Table 15
11

Charles Palomar

John Koot

Sun 14:46
Table 14
12

Danny van Soest

Tara Verharen

Sun 14:43
Table 7

Loser round 1

Race to 3

Best of 3 sets

13

Howard Holwijn

Roy Al Ayoubi

Sun 15:12
Table 12
14

Ben Zaza

Tom Innemee

Sun 14:44
15

Anand Sjambar

Sebastiaan Bost

Sun 14:46
Table 11
16

Karin Roijen

William (Billy) Kelly

Sun 14:44
Table 10

Loser round 2

Race to 3

Best of 3 sets

17

Howard Holwijn

Tara Verharen

Sun 15:50
Table 7
18

Ben Zaza

John Koot

Sun 16:55
Table 14
19

Anand Sjambar

Maaike Dent

Sun 16:22
Table 9
20

William (Billy) Kelly

Frans van Tatenhove

Sun 16:00
Table 15

Winners qualification

Race to 3

Best of 3 sets

21

Milen Pan

Bob Worku

Sun 15:58
Table 12
22

Charles Palomar

Danny van Soest

Sun 16:56
Table 7

Loser round 3

Race to 3

Best of 3 sets

23

Howard Holwijn

John Koot

Sun 18:20
Table 9
24

Maaike Dent

William (Billy) Kelly

Sun 17:18
Table 10

Losers qualification

Race to 3

Best of 3 sets

25

Howard Holwijn

Bob Worku

Sun 19:35
Table 10
26

William (Billy) Kelly

Charles Palomar

Sun 19:08
Table 7

Semi final

Race to 3

Best of 3 sets

27

Milen Pan

William (Billy) Kelly

Sun 20:54
Table 9
28

Danny van Soest

Bob Worku

Sun 19:56
Table 10

Final

Race to 3

Best of 3 sets

29

Milen Pan

Danny van Soest

Sun 22:09
Table 10