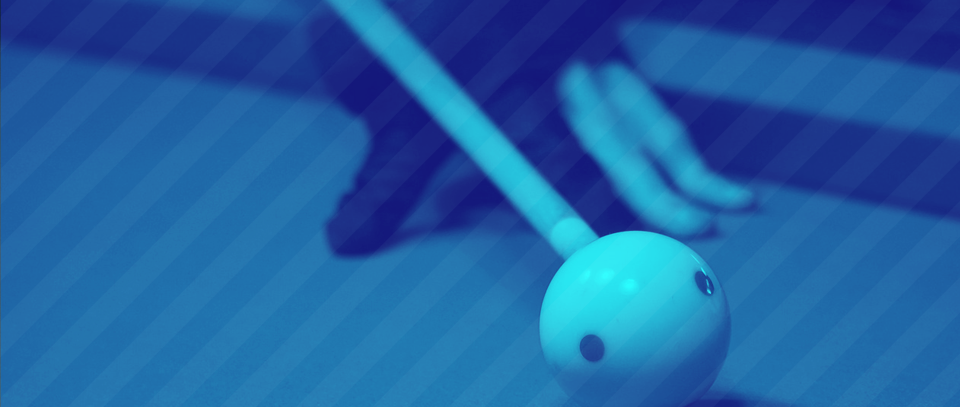 December 26, 2019
Oslo BK Romjulstreffen 2019
Multiball
Entry deadline
Dec 26, 2019, 1:30 PM (local time)
Starts
Dec 26, 2019, 2:00 PM (local time)
Format
Round robin (9

Participants

)
Race to
7
Handicap
With handicap
Organizer
Oslo BK
Contact
Stig Nesvik (stignesvik@hotmail.com, 46552338)
More info

Multiball med HCP -1 til 4 og distanse 7, dobbelcup. Startavgift 200,- Åpen for alle. Max 32 delt. Ved 20 deltakere premieres som følger: 1. 1800,-, 2. 1000,- 3. 500× 2. Ved flere enn 24 delt. premieres også 5. plassene.
Multiball spilles slik: (vinners brekk og vinners valg): I innledende runder spilles 2×9 ball + 2x10-ball, deretter 9,10,9,10 til matchen er vunnet. Spiller om førstebrekket. F.o.m. kvartfinalene er det vinners brekk og vinners valg, det spilles om brekket og den som starter velger disiplin, deretter velger vinner av hvert parti hvilken disiplin som spilles. Det er ikke anledning til å velge samme type disiplin i flere enn 3 partier på rad av samme spiller. 8- ball kan bare velges i semifinalene og i finalen med Max 2 partier pr. spiller i hver av finalene. Med få deltakere spilles gruppespill.
Round-robin standings
Group A

Pos
Name
Played
Win
Tie
Lose
fw
fl
fs
RO
Lags
Bonus
avg
Points
1

Simen Jøndal

3
3
0
0
21
12
9
0
0
0
0.636
3
2

Nate Komljenovic

3
1
0
2
16
18
-2
0
0
0
0.471
1
3

Stig Nesvik

3
1
0
2
14
16
-2
0
0
0
0.467
1
4

Bjørn Bratteberg

3
1
0
2
13
18
-5
0
0
0
0.419
1
5

Umar Hayat Ali

0
0
0
0
0
0
0
0
0
0
0
0

Group B

Pos
Name
Played
Win
Tie
Lose
fw
fl
fs
RO
Lags
Bonus
avg
Points
1

Thomas Aleksander Bjørnson Fjæran

3
2
0
1
16
14
2
0
0
0
0.533
2
2

Kim Bjørnstad

3
2
0
1
18
16
2
0
0
0
0.529
2
3

Kent Hansen

3
1
0
2
15
19
-4
0
0
0
0.441
1
4

Robin Nathan

3
1
0
2
16
16
0
0
0
0
0.5
1
Schedule
1-A

Simen Jøndal

4

Nate Komljenovic

2

Thu 14:23
Table 6
2-A

Umar Hayat Ali

0

Bjørn Bratteberg

2

Table 4
3-B

Robin Nathan

2

Kent Hansen

2

Thu 14:26
Table 6
4-B

Thomas Aleksander Bjørnson Fjæran

-1

Kim Bjørnstad

2

Thu 14:26
Table 9
5-A

Nate Komljenovic

2

Bjørn Bratteberg

2

Thu 15:35
6-A

Simen Jøndal

4

Stig Nesvik

3

Thu 15:35
7-B

Robin Nathan

2

Kim Bjørnstad

2

Thu 16:08
8-B

Kent Hansen

2

Thomas Aleksander Bjørnson Fjæran

-1

Thu 15:26
9-A

Bjørn Bratteberg

2

Stig Nesvik

3

Thu 15:03
10-A

Nate Komljenovic

2

Umar Hayat Ali

0

11-B

Robin Nathan

2

Thomas Aleksander Bjørnson Fjæran

-1

Thu 16:51
12-B

Kim Bjørnstad

2

Kent Hansen

2

Thu 16:53
13-A

Stig Nesvik

3

Umar Hayat Ali

0

14-A

Bjørn Bratteberg

2

Simen Jøndal

4

Thu 16:49
15-A

Umar Hayat Ali

0

Simen Jøndal

4

16-A

Stig Nesvik

3

Nate Komljenovic

2

Thu 16:53
17

Simen Jøndal

4

Kim Bjørnstad

2

Thu 17:00
18

Nate Komljenovic

2

Thomas Aleksander Bjørnson Fjæran

-1

Thu 17:00
19

Kim Bjørnstad

2

Thomas Aleksander Bjørnson Fjæran

-1

Thu 18:23