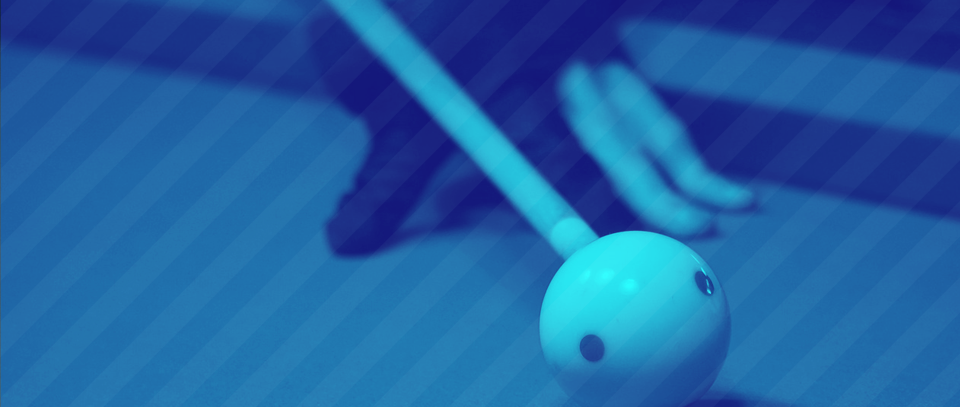 December 15, 2018
Oslo BK Klubbmesterskap 8-ball 2018
8-Ball
Entry deadline
Dec 15, 2018, 12:45 PM (local time)
Starts
Dec 15, 2018, 12:45 PM (local time)
Format
Double elimination (16

Participants

)
Race to
4
Handicap
No handicap
Rankings
Oslo BK Klubbmester 2018
Organizer
Oslo BK
Contact
Per Hagen (eposthagen@gmail.com) and Stig Nesvik (stignesvik@hotmail.com, 46552338)
More info

Den første, av i alt tre disipliner i årets klubbmesterskap, er 8- ball. Distanse 4 (kan endres) og annethvert brekk. Turneringen starter kl. 1230, og blir etterfulgt av den andre disiplin som er 10- ball (se egen ann.). Tredje disiplin, 9-ball spilles på søndag, med start kl. 1230 (se egen ann.). Det kåres vinner i hver disiplin og en sammenlagtvinner for 8,9, og 10-ball. Det er ikke handicap i klubbmesteskapene og alle medlemmer i Oslo BK er velkomne til å delta😁 Deltakelse er gratis!!
Schedule
1

Eirik Riisnæs

2

Bent Brørs

3

Morten Falk

4

Ivan Tadic

5

Šarūnas Demidka

6

Niko Chatzitheodorou

7

NILS ARILD SABBASEN

8

Mindaugas Jomantas

9

Erol Dane Mula

10

Jozef Kwit

11

Simen Jøndal

12

Tore Mo

13

Bård Onsum

14

Kent Hansen

15

Stig Nesvik

16

Ole Kristian Rudshavn

17

Eirik Riisnæs

Bent Brørs

Sat 12:45
Table 6
18

Morten Falk

Ivan Tadic

Sat 12:45
Table 3
19

Šarūnas Demidka

Niko Chatzitheodorou

Sat 12:45
Table 4
20

NILS ARILD SABBASEN

Mindaugas Jomantas

Sat 12:45
Table 5
21

Erol Dane Mula

Jozef Kwit

Sat 12:45
Table 7
22

Simen Jøndal

Tore Mo

Sat 12:45
Table 8
23

Bård Onsum

Kent Hansen

Sat 12:45
Table 9
24

Stig Nesvik

Ole Kristian Rudshavn

Sat 12:45
Table 12
25
26
27
28
29
30
31
32
33

Stig Nesvik

34

Bård Onsum

35

Tore Mo

36

Erol Dane Mula

37

NILS ARILD SABBASEN

38

Niko Chatzitheodorou

39

Ivan Tadic

40

Bent Brørs

Winners qualification

Race to 4

41

Eirik Riisnæs

Morten Falk

Sat 13:27
Table 6
42

Šarūnas Demidka

Mindaugas Jomantas

Sat 14:09
43

Jozef Kwit

Simen Jøndal

Sat 14:12
44

Kent Hansen

Ole Kristian Rudshavn

Sat 13:34
45

Stig Nesvik

Bård Onsum

Sat 13:35
Table 5
46

Tore Mo

Erol Dane Mula

Sat 14:12
47

NILS ARILD SABBASEN

Niko Chatzitheodorou

Sat 14:12
48

Ivan Tadic

Bent Brørs

Sat 13:35

Losers qualification

Race to 4

49

Bård Onsum

Šarūnas Demidka

Sat 14:11
Table 4
50

Erol Dane Mula

Morten Falk

Sat 14:31
Table 6
51

Niko Chatzitheodorou

Kent Hansen

Sat 14:47
52

Bent Brørs

Simen Jøndal

Sat 14:40
53

Eirik Riisnæs

Bent Brørs

Sat 15:56
Table 10
54

Mindaugas Jomantas

Morten Falk

Sat 15:55
Table 5
55

Jozef Kwit

Kent Hansen

Sat 15:55
Table 7
56

Ole Kristian Rudshavn

Šarūnas Demidka

Sat 15:55
Table 6
57

Eirik Riisnæs

Mindaugas Jomantas

Sat 16:35
Table 6
58

Kent Hansen

Ole Kristian Rudshavn

Sat 17:02
59

Eirik Riisnæs

Ole Kristian Rudshavn

Sat 17:48
Table 6