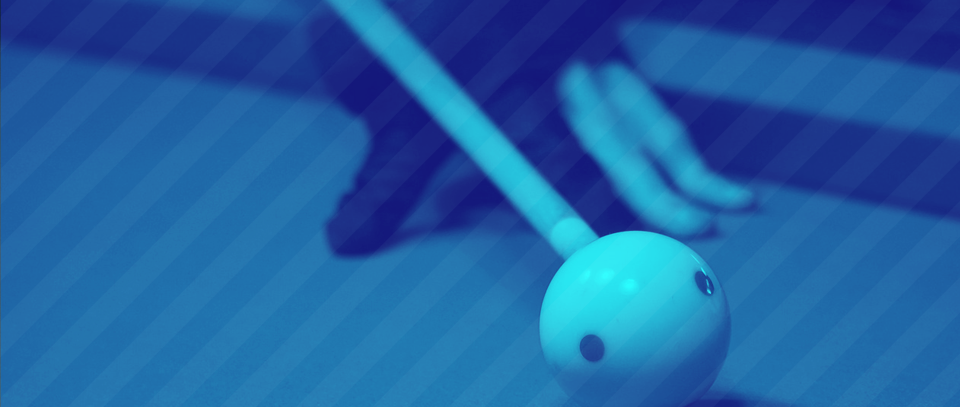 December 16, 2018
Oslo BK Klubbmesterskap 9-ball 2018
9-Ball
Entry deadline
Dec 16, 2018, 12:30 PM (local time)
Starts
Dec 16, 2018, 12:30 PM (local time)
Format
Double elimination (12

Participants

)
Race to
6
Handicap
No handicap
Rankings
Oslo BK Klubbmester 2018
Organizer
Oslo BK
Contact
Simen Jøndal (40235623), Eirik Riisnæs (eirik.riisnaes@hotmail.com, 95775795), Ivan Tadic , Robin Hagerup Ertesvåg (Rob.hagert@gmail.com), Ole Kristian Rudshavn (olecool92@gmail.com), Per Hagen (eposthagen@gmail.com), Jack Nordby (jack71@getmail.no, +47 46988131) and Stig Nesvik (stignesvik@hotmail.com, 46552338)
More info

9-ball med distanse 6 (kan endres), annethvert brekk og 3 ball regel. Siste disiplin av i alt tre i årets klubbmesterskap. Sammenlagtvinner kåres. Alle medlemmer er velkomne og det er gratis å delta!
Schedule
1

Eirik Riisnæs

2
3

Kent Hansen

4

Stig Nesvik

5

Morten Falk

6

Ivan Tadic

7
8

Per Hagen

9

Ole Kristian Rudshavn

10
11

Simen Jøndal

12

Jack Nordby

13

Jozef Kwit

14

Tore Mo

15
16

Robin Hagerup Ertesvåg

17

Eirik Riisnæs

18

Kent Hansen

Stig Nesvik

Sun 12:41
Table 6
19

Morten Falk

Ivan Tadic

Sun 12:42
Table 7
20

Per Hagen

21

Ole Kristian Rudshavn

22

Simen Jøndal

Jack Nordby

Sun 12:42
Table 9
23

Jozef Kwit

Tore Mo

Sun 12:42
Table 12
24

Robin Hagerup Ertesvåg

25
26
27
28
29
30
31
32
33
34

Tore Mo

35

Simen Jøndal

36
37
38

Morten Falk

39

Stig Nesvik

40

Winners qualification

Race to 6

41

Eirik Riisnæs

Kent Hansen

Sun 13:58
Table 7
42

Ivan Tadic

Per Hagen

Sun 13:58
Table 6
43

Ole Kristian Rudshavn

Jack Nordby

Sun 14:00
Table 9
44

Jozef Kwit

Robin Hagerup Ertesvåg

Sun 13:39
Table 12
45

Tore Mo

46

Simen Jøndal

47

Morten Falk

48

Stig Nesvik

Losers qualification

Race to 6

49

Tore Mo

Ivan Tadic

Sun 14:46
Table 9
50

Simen Jøndal

Kent Hansen

Sun 14:39
Table 7
51

Morten Falk

Jozef Kwit

Sun 14:17
Table 12
52

Stig Nesvik

Jack Nordby

Sun 14:46
Table 6
53

Eirik Riisnæs

Jack Nordby

Sun 15:56
Table 9
54

Per Hagen

Morten Falk

Sun 15:56
Table 6
55

Ole Kristian Rudshavn

Kent Hansen

Sun 15:56
Table 7
56

Robin Hagerup Ertesvåg

Ivan Tadic

Sun 15:56
Table 12
57

Eirik Riisnæs

Per Hagen

Sun 16:46
Table 7
58

Ole Kristian Rudshavn

Robin Hagerup Ertesvåg

Sun 16:46
Table 6
59

Eirik Riisnæs

Ole Kristian Rudshavn

Sun 17:30
Table 6