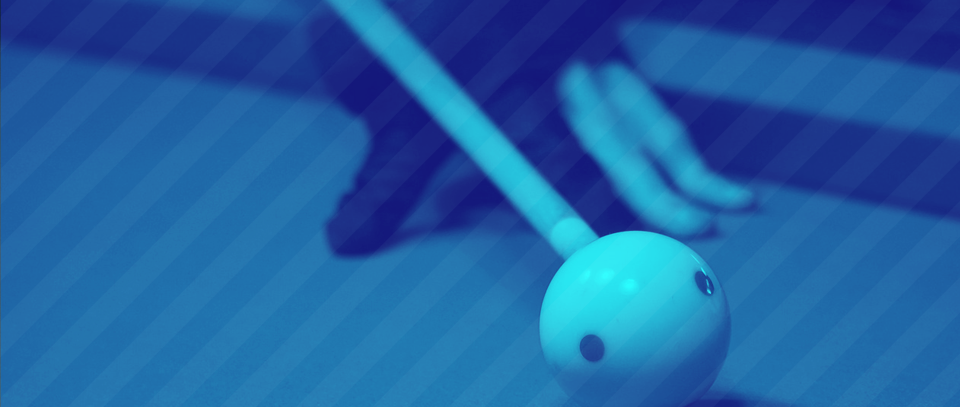 September 9, 2020
Oslo BK KT II 2020-2021
9-Ball
Entry deadline
Sep 9, 2020, 6:50 PM (local time)
Starts
Sep 9, 2020, 6:00 PM (local time)
Format
Double elimination (15

Participants

)
Handicap
With handicap
Rankings
Oslo BK ranking 2020/2021
Organizer
Oslo BK
Contact
Stig Nesvik (stignesvik@hotmail.com, 46552338) and Egil Arne Sørensen
More info

🎱 9-ball med HCP 🎱 9 på spot og 3 ball regel 🎱 spiller om åpningsbrekket, ellers vinners brekk 🎱 påmelding cuescore før 1750 🎱 påmelding ved oppmøte, er spilleren selv ansvarlig for at at dette skjer før 1750. SJEKK AT DU ER PÅMELDT UANSETT I FORKANT AV 1750 🎱 Spillere som ikke er påmeldt når trekningen tas, må vente til neste onsdag 🎱 Uten avtale med turneringsansvarlig, er det ikke mulig å melde seg på etter at påmeldingsfristen er utløpt. NÅR trekningen er foretatt og du er påmeldt, er 15 minutter før sein ankomst max for deltakelse i runde 1. Deltakere vil bli satt opp på tapersiden. Kommer ikke deltakere som er påmeldt og heller ikke har sagt fra før trekningen, må avgift for turneringen betales. Spør om noe er uklart. Hovedregel for de fleste er å melde seg på i god tid før, og skulle det oppstå noe, sier man fra og vi finner en løsning.

Når det er RT påfølgende helg, spiller vi vanligvis RT-disiplinen. Denne gangen gjør vi ikke det, flere av deltakerne på onsdagsturneringene må bli mye bedre i egen administrering av turneringen, være på plass ved matchstart, følge med på tidspunkter og være etterrettelig i spillegjennomføringen. Turneringsansvarlig henter ikke spillere til matchene, det blir partitap ved for sent oppmøte. Innstramminger også på renhold av bord, alle skal tørke av bordet når de forlater det og vær flink med å vaske hender og sprite ved behov. ALLE REGISTRERER SEG NÅR DE KOMMER.
Schedule
Round 1

1

Jan Atle Kofoed

2

Kent Halldin

115

Ole Kristian Rudshavn

172

Wed 18:09
Table 6
3

Andreas Eldegard Wahr-Hansen

36

Bjørn Bratteberg

82

Wed 18:09
Table 7
4

Vaios Evangelou

56

Jan Petter Svendsen

69

Wed 18:09
Table 8
5

Henrik Olsson

119

Philip Sanchez Gangfløt

128

Wed 18:09
Table 9
6

Daniel Lorentzen-Styr

59

Kim Soo Garmark

128

Wed 18:09
Table 10
7

Morten Bakken

97

Umar Hayat Ali

134

Wed 18:08
Table 14
8

Pål Daud Fillipsveen

92

Desak Sri Pustini

57

Wed 18:09
Table 12

Winners qualification

9

Jan Atle Kofoed

89

Ole Kristian Rudshavn

172

R1

Wed 18:47
Table 6
10

Bjørn Bratteberg

82

Jan Petter Svendsen

69

Wed 19:38
Table 6
11

Philip Sanchez Gangfløt

128

Daniel Lorentzen-Styr

59

Wed 19:11
Table 10
12

Umar Hayat Ali

134

Pål Daud Fillipsveen

92

Wed 18:57
Table 12

Loser round 1

13

Kent Halldin

14

Andreas Eldegard Wahr-Hansen

36

Vaios Evangelou

56

Wed 19:55
Table 8
15

Henrik Olsson

119

Kim Soo Garmark

128

Wed 19:21
Table 9
16

Morten Bakken

97

Desak Sri Pustini

57

Wed 18:56
Table 5

Losers qualification

17

Kent Halldin

115

Pål Daud Fillipsveen

92

Wed 19:31
Table 5
18

Vaios Evangelou

56

Philip Sanchez Gangfløt

128

Wed 20:45
Table 9
19

Kim Soo Garmark

128

Jan Petter Svendsen

69

Wed 20:56
Table 12
20

Desak Sri Pustini

57

Ole Kristian Rudshavn

172

R2

Wed 19:28
Table 7

Quarter final

21

Jan Atle Kofoed

89

Philip Sanchez Gangfløt

128

Wed 21:47
Table 8
22

Bjørn Bratteberg

82

Kim Soo Garmark

128

Wed 21:47
Table 7
23

Daniel Lorentzen-Styr

59

Kent Halldin

115

Wed 21:47
Table 6
24

Umar Hayat Ali

134

Ole Kristian Rudshavn

172

R1

Wed 21:47
Table 12

Semi final

25

Philip Sanchez Gangfløt

128

R1

Bjørn Bratteberg

82

Wed 22:37
Table 9
26

Daniel Lorentzen-Styr

59

Umar Hayat Ali

134

Wed 22:25
Table 12

Final

27

Philip Sanchez Gangfløt

128

Daniel Lorentzen-Styr

59

Wed 23:28
Table 12