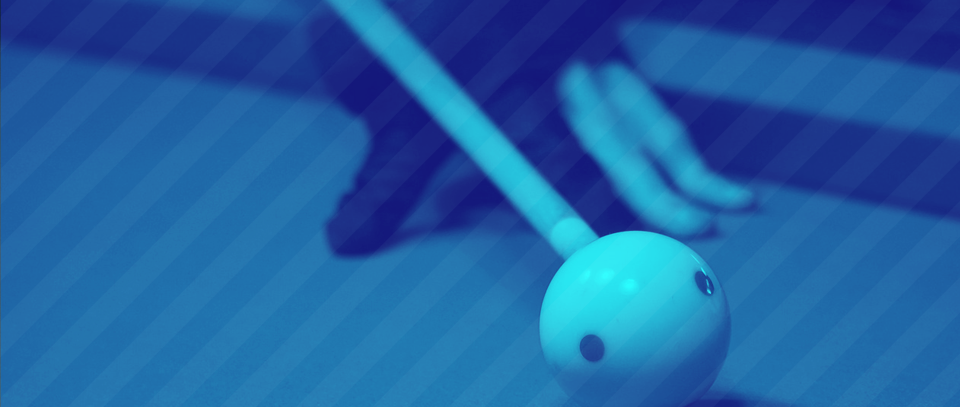 October 9, 2019
Hague5 Huistoernooi Masters
10-Ball
Starts
Oct 9, 2019, 8:00 PM (local time)
Format
Double elimination (15

Participants

)
Race to
3
Handicap
No handicap
Rankings
Hague 5 Master Ranking 2019 and Pool Ranking Nederland
Organizer
Hague 5
Contact
Karin Roijen (karinroijen@gmail.com, +31 06-18750321), Govert-Jan Vos (Govert-jan.vos@denhaag.nl, +31 06-52672069), Howard Holwijn (+31 06-16884766), Manitou Jansen (manitou.3@hotmail.com, +31 06-38740468), Vincent Rauwerda (vinikolp9@gmail.com, +31 639464044) and Frederique Rijsdijk (frederique@isafeelin.org)
More info

Huistoernooi van Hague5 hierbij wordt om de week 9-ball en 10-ball gespeeld.
Leden betalen € 11 (junioren onder de 18 € 6)
Niet-Leden betalen € 13
Er zijn dagprijzen, een jackpot tijdens het toernooi en een deel van het geld gaat naar de ranking die wordt afgesloten met een Masters. Voor elk toernooi zijn tijdens het jaar punten te verdienen zodat aan het einde kan worden gestreden om de titel Master Hague5 2019.
Te laat: Na kwart over 8 zal elke 5 minuten een rack worden verloren om half negen zal dus automatisch verloren zijn en wordt er gestart in de verliezersronde.
Schedule
1

Ben Zaza

2
3

Karin Roijen

4

Callum O'Sullivan

5

Stefan Sprangers

6

Govert-Jan Vos

7

Vincent Rauwerda

8

Howard Holwijn

9

Staaf Verharen

10

Freek

11

Charles Palomar

12

Joost Vollebregt

13

Hendrik Campioni

14

Tjeerd Hoekema

15

Erik De Vries

16

Tara Verharen

17

Ben Zaza

18

Karin Roijen

Callum O'Sullivan

Wed 20:07
19

Stefan Sprangers

Govert-Jan Vos

Wed 20:07
20

Vincent Rauwerda

Howard Holwijn

Wed 20:07
21

Staaf Verharen

Freek

Wed 20:07
22

Charles Palomar

Joost Vollebregt

Wed 20:07
23

Hendrik Campioni

Tjeerd Hoekema

Wed 20:07
24

Erik De Vries

Tara Verharen

Wed 20:07
25
26
27
28
29
30
31
32
33

Erik De Vries

34

Hendrik Campioni

35

Joost Vollebregt

36

Freek

37

Vincent Rauwerda

38

Govert-Jan Vos

39

Callum O'Sullivan

40

Winners qualification

Race to 3

41

Ben Zaza

Karin Roijen

Wed 20:47
42

Stefan Sprangers

Howard Holwijn

Wed 20:45
43

Staaf Verharen

Charles Palomar

Wed 20:43
44

Tjeerd Hoekema

Tara Verharen

Wed 20:47
45

Erik De Vries

Hendrik Campioni

Wed 20:48
46

Joost Vollebregt

Freek

Wed 20:43
47

Vincent Rauwerda

Govert-Jan Vos

Wed 20:45
48

Callum O'Sullivan

Losers qualification

Race to 3

49

Hendrik Campioni

Howard Holwijn

Wed 21:28
50

Joost Vollebregt

Karin Roijen

Wed 21:28
51

Vincent Rauwerda

Tara Verharen

Wed 21:15
52

Callum O'Sullivan

Staaf Verharen

Wed 21:29
53

Ben Zaza

Callum O'Sullivan

Wed 22:12
54

Stefan Sprangers

Joost Vollebregt

Wed 22:12
55

Charles Palomar

Tara Verharen

Wed 22:12
56

Tjeerd Hoekema

Hendrik Campioni

Wed 22:12
57

Ben Zaza

Stefan Sprangers

Wed 22:52
58

Charles Palomar

Tjeerd Hoekema

Wed 22:40
59

Stefan Sprangers

Tjeerd Hoekema

Wed 23:20