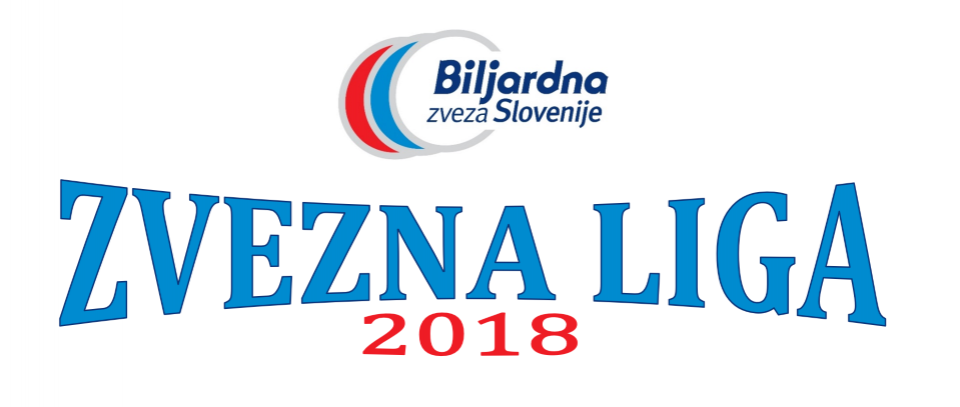 November 24, 2018
7. TURNIR ZVEZNE LIGE - KVALIFIKACIJSKI DEL
9-Ball
Results
Qualified
Entry deadline
Nov 23, 2018, 3:00 PM (local time)
Starts
Nov 24, 2018, 10:00 AM (local time)
Format
Round robin (11

Participants

)
Race to
6
Handicap
No handicap
Organizer
Biljardna zveza Slovenije
Contact
Klavdij Ferle (klavdij.ferle@gmail.com), Kristijan Nikl and Sandi Rojko (sandi.rojko@gmail.com, +38640723174)
More info

Kvalifikacijski del tekmovanja za mesto med najboljših 16 finalnega dela.
Prvih 8 najbolje rangiranih prijavljenih igralcev je že uvrščenih v začetek finalnega dela tekmovanja.
Prva dva iz vsake skupine, se požrebata med slabše 4 nosilce, medtem ko se druga dva iz vsake skupine požrebata med boljše 4 nosilce.
Dobro igro vsem.
Round-robin standings
Group A

Pos
Name
Played
Win
Tie
Lose
fw
fl
fs
RO
Lags
Bonus
avg
Points
1

Klavdij Ferle

4
3
0
1
19
16
3
0
0
0
0.543
3
2

Blaž Bižal

4
3
0
1
21
18
3
0
0
0
0.538
3
3

Jožef Gatej

4
2
0
2
20
17
3
0
0
0
0.541
2
4

Beno Messner

4
1
0
3
14
23
-9
0
0
0
0.378
1
5

Bojan Uljan

4
1
0
3
19
19
0
0
0
0
0.5
1

Group B

Pos
Name
Played
Win
Tie
Lose
fw
fl
fs
RO
Lags
Bonus
avg
Points
1

Denis Jasnič

5
4
0
1
29
19
10
0
0
0
0.604
4
2

Peter Fijavž

5
3
0
2
25
20
5
0
0
0
0.556
3
3

Kristijan Gavez

5
2
0
3
22
25
-3
0
0
0
0.468
2
4

Tomas Hercog

5
2
0
3
20
28
-8
0
0
0
0.417
2
5

Simon Tomažič

5
2
0
3
26
23
3
0
0
0
0.531
2
6

Boštjan Messner

5
2
0
3
20
27
-7
0
0
0
0.426
2
Schedule
1-A

Bojan Uljan

Blaž Bižal

Sat 10:12
2-A

Beno Messner

Jožef Gatej

Sat 10:12
3-B

Simon Tomažič

Boštjan Messner

Sat 10:12
4-B

Kristijan Gavez

Peter Fijavž

Sat 10:28
5-B

Denis Jasnič

Tomas Hercog

Sat 10:57
6-A

Blaž Bižal

Jožef Gatej

Sat 11:11
7-A

Bojan Uljan

Klavdij Ferle

Sat 11:13
8-B

Simon Tomažič

Peter Fijavž

Sat 11:12
9-B

Boštjan Messner

Tomas Hercog

Sat 11:55
10-B

Kristijan Gavez

Denis Jasnič

Sat 11:55
11-A

Jožef Gatej

Klavdij Ferle

Sat 12:58
12-A

Blaž Bižal

Beno Messner

Sat 12:05
13-B

Simon Tomažič

Tomas Hercog

Sat 12:38
14-B

Peter Fijavž

Denis Jasnič

Sat 12:49
15-B

Boštjan Messner

Kristijan Gavez

Sat 12:49
16-A

Klavdij Ferle

Beno Messner

Sat 14:42
17-A

Jožef Gatej

Bojan Uljan

Sat 14:42
18-B

Simon Tomažič

Denis Jasnič

Sat 13:56
19-B

Tomas Hercog

Kristijan Gavez

Sat 13:46
20-B

Peter Fijavž

Boštjan Messner

Sat 13:58
21-A

Beno Messner

Bojan Uljan

Sat 13:24
22-A

Klavdij Ferle

Blaž Bižal

Sat 15:40
23-B

Simon Tomažič

Kristijan Gavez

Sat 15:03
24-B

Denis Jasnič

Boštjan Messner

Sat 15:10
25-B

Tomas Hercog

Peter Fijavž

Sat 16:04