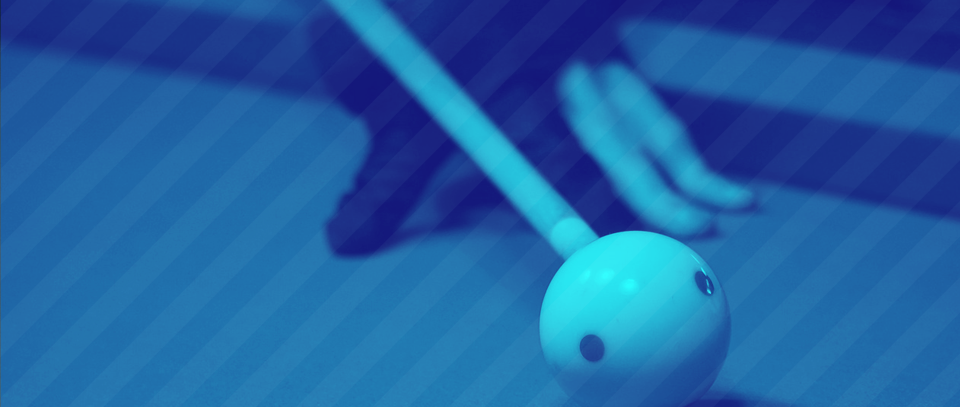 March 4 - February 28, 2018
Valley Tour Event 1
Blackball
Entry deadline
Mar 3, 2018, 12:00 PM (local time)
Starts
Mar 4, 2018, 9:00 AM (local time)
Format
Single elimination (48

Participants

)
Race to
5
Handicap
No handicap
Organizer
WPA Streaming
More info

All players are required to be ready to play at least 30 minutes prior to their advertised start time.
There is NO dress code.
As the start times that are published are approximately, no start time changes can be made.
One frame will be forfeited after you are 10 minutes late, a second frame forfeited after 20 minutes and loss of match after 30 minutes.
Schedule
1

Craig Marsh

2

Andy Owen

Harri Oliver

Sun 09:28
Table 1
3

Ross Jones

Simon Collier

Sun 11:41
Table 4
4

Callum Jackson

5

Mark Layland

6

Nigel King

Jason Walker

Sun 09:28
7

Brian Sullivan

Kyle Coughlin

Sun 10:04
Table 4
8

Rhodri Garland

9

Chris Badman

10

Lewis Butcher

Andy Bryant

Sun 09:28
11

Dean Herbert

Paul Bushnell

Sun 10:15
Table 2
12

Ieuan Medley

13

Steve Skinner

14

John Willington

Lewys Smith

Sun 10:42
Table 4
15

Dale Horseman

Jonathan Bushnell

Sun 10:42
Table 1
16

Alex Lewis

17

Jonny Callaghan

18

Andrew Whitfield

Stephen Fergus

Sun 09:54
Table 3
19

Kyle Evans

Steve Williams

Sun 10:45
Table 3
20

Darren Smith

21

Nicky Haines

22

Jamie Smart

Paul Davies

Sun 11:10
Table 2
23

Nicky Griffiths

Ieuan Roberts

Sun 11:51
Table 3
24

Steve Weekes

25

Paul Rowley

26

Darren Price

Robert Moulding

Sun 11:19
Table 1
27

Luke Sanges

Dean Corbett

Sun 12:15
Table 2
28

Wayne Griffiths

29

Ian Grant

30

Chris Williams

Shane Wright

Sun 12:37
Table 1
31

Curtis Lee

Scott Daniels

Sun 12:59
Table 4
32

Dave Whitcombe

33

Craig Marsh

Andy Owen

Sun 13:04
Table 2
34

Simon Collier

Callum Jackson

Sun 13:26
Table 2
35

Mark Layland

Nigel King

Sun 13:33
Table 3
36

Brian Sullivan

Rhodri Garland

Sun 14:18
Table 1
37

Chris Badman

Lewis Butcher

Sun 14:18
Table 4
38

Dean Herbert

Ieuan Medley

Sun 14:36
Table 2
39

Steve Skinner

Lewys Smith

Sun 14:51
Table 1
40

Jonathan Bushnell

Alex Lewis

Sun 14:57
Table 3
41

Jonny Callaghan

Andrew Whitfield

Sun 15:21
Table 4
42

Kyle Evans

Darren Smith

Sun 15:30
Table 3
43

Nicky Haines

Jamie Smart

Sun 15:47
Table 2
44

Nicky Griffiths

Steve Weekes

Sun 16:18
Table 4
45

Paul Rowley

Darren Price

Sun 16:19
Table 3
46

Luke Sanges

Wayne Griffiths

Sun 16:29
Table 1
47

Ian Grant

Chris Williams

Sun 16:53
Table 2
48

Scott Daniels

Dave Whitcombe

Sun 17:15
Table 3
49

Craig Marsh

Callum Jackson

Sun 17:20
Table 4
50

Mark Layland

Rhodri Garland

Sun 17:26
Table 1
51

Lewis Butcher

Dean Herbert

Sun 18:05
Table 3
52

Steve Skinner

Jonathan Bushnell

Sun 18:13
Table 4
53

Andrew Whitfield

Kyle Evans

Sun 18:16
Table 1
54

Nicky Haines

Nicky Griffiths

Sun 18:18
Table 2
55

Darren Price

Luke Sanges

Sun 18:33
Table 3
56

Chris Williams

Scott Daniels

Sun 19:00
Table 2
57

Craig Marsh

Rhodri Garland

Sun 19:02
58

Lewis Butcher

Jonathan Bushnell

Sun 19:22
Table 1
59

Andrew Whitfield

Nicky Griffiths

Sun 19:05
Table 4
60

Luke Sanges

Chris Williams

Sun 20:04
Table 3
61

Craig Marsh

Jonathan Bushnell

Sun 20:26
Table 3
62

Nicky Griffiths

Luke Sanges

Sun 21:19
Table 4
63

Jonathan Bushnell

Luke Sanges

Sun 21:43
Table 4