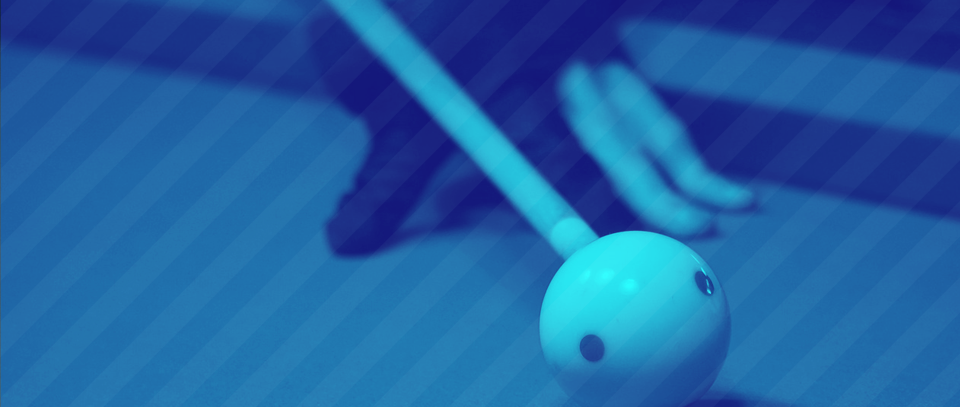 July 8, 2020
9BALL TOERNOOI voor toppers met jackpot!
9-Ball
Starts
Jul 8, 2020, 7:30 PM (local time)
Format
Double elimination (21

Participants

)
Race to
4
Handicap
No handicap
Dresscode
Streets of Cuba
Organizer
Plan B
Contact
Plann Bee
More info

Nog 1 toernooi op de woensdag voordat we weer teruggaan naar goodold dinsdag. 9ball DKO met een handicap (8ball) voor de wat mindere pooler als ze willen. 3 spelers worden geloot om de Jackpot te schieten die staat op ruim 580(!) euro. Kosten zijn 15 eu de neus en tot 20 man krijgt top 4 prijzengeld, vanaf 20 personen is het de top 8. We starten om 19:30 en inspelen mag vanaf 14:00 (tip), max 32 personen..
Schedule
1

Sami Arous

2

Ijsbrand Bergisch

David van Streepen

Wed 19:31
Table 1
3

Victor van Tongeren

4

Julian Van Velthoven

5

Gilliano Smit

6

Marc Verweij

Joost Eijgenbrood

Wed 19:31
Table 2
7

Joeri Ruiter

Kevin den Hartigh

Wed 19:31
Table 3
8

Sten van Schaik

9

Diana Meijer

10

Jur Kous

Pijke Vernout

Wed 19:31
Table 5
11

Espen Falkenhaug

12

Ramin Ismayilov

13

Massimiliano Donini

14

Peter de Vries

15

Richard V Velthoven

Jeroen Hoosemans

Wed 19:31
Table 6
16

Jean Paul Kievit

17

Sami Arous

Ijsbrand Bergisch

Wed 20:45
Table 5
18

Victor van Tongeren

Julian Van Velthoven

Wed 19:43
Table 5
19

Gilliano Smit

Joost Eijgenbrood

Wed 20:19
Table 5
20

Kevin den Hartigh

Sten van Schaik

Wed 20:19
Table 1
21

Diana Meijer

Pijke Vernout

Wed 19:53
Table 1
22

Espen Falkenhaug

Ramin Ismayilov

Wed 19:55
Table 6
23

Massimiliano Donini

Peter de Vries

Wed 20:06
Table 3
24

Jeroen Hoosemans

Jean Paul Kievit

Wed 20:07
Table 2
25

David van Streepen

26
27

Marc Verweij

28

Joeri Ruiter

29

Jur Kous

30
31
32

Richard V Velthoven

33

David van Streepen

Jeroen Hoosemans

Wed 20:49
Table 2
34

Massimiliano Donini

35

Marc Verweij

Espen Falkenhaug

Wed 20:23
Table 6
36

Joeri Ruiter

Pijke Vernout

Wed 20:49
Table 3
37

Jur Kous

Kevin den Hartigh

38

Joost Eijgenbrood

39

Julian Van Velthoven

40

Richard V Velthoven

Sami Arous

Wed 21:24
Table 6

Winners qualification

Race to 4

41

Ijsbrand Bergisch

Victor van Tongeren

Wed 21:19
Table 3
42

Gilliano Smit

Sten van Schaik

Wed 21:13
Table 2
43

Diana Meijer

Ramin Ismayilov

Wed 20:52
Table 6
44

Peter de Vries

Jean Paul Kievit

Wed 21:05
Table 1
45

Jeroen Hoosemans

Massimiliano Donini

Wed 21:18
Table 5
46

Espen Falkenhaug

Joeri Ruiter

Wed 21:40
Table 5
47

Kevin den Hartigh

Joost Eijgenbrood

Wed 22:11
Table 1
48

Julian Van Velthoven

Sami Arous

Wed 21:54
Table 6

Losers qualification

Race to 3

49

Massimiliano Donini

Sten van Schaik

Wed 22:11
Table 2
50

Joeri Ruiter

Victor van Tongeren

Wed 22:22
Table 3
51

Joost Eijgenbrood

Jean Paul Kievit

Wed 22:44
Table 1
52

Sami Arous

Diana Meijer

Wed 22:24
Table 6
53

Ijsbrand Bergisch

Massimiliano Donini

Wed 23:22
Table 1
54

Gilliano Smit

Joost Eijgenbrood

Wed 23:24
Table 2
55

Ramin Ismayilov

Victor van Tongeren

Wed 23:22
Table 3
56

Peter de Vries

Diana Meijer

Wed 23:22
Table 4
57

Ijsbrand Bergisch

Gilliano Smit

Thu 00:00
Table 1
58

Victor van Tongeren

Peter de Vries

Thu 00:13
59

Gilliano Smit

Victor van Tongeren

Thu 00:44
Table 1